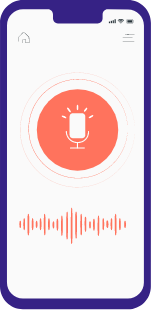 A Buzzdial TTS will speak your language as fluently as a real live agent, and will use voices trained specifically for your use cases and dialogues. A key advantage of this text-to-speech technology is that it uses recurrent neural networks to produce a much more human-sounding voice.
The best possible experience for callers
Automating more phone calls reduced costs
Flexible, easy-to-update applications
Differentiate your brand with a custom voice experience
Buzzdial TTS provides a consistent caller experience across your IVR and mobile channels and provides a unique voice for your brand. For high-quality self-service applications, Buzzdial TTS uses 50+ voice and language options and 20+ languages to create natural sounding speech. When you use TTS, you don't need voice talent, so your brand says what you want, whenever you need.
Buzzdial has been offering perfect Text-to-Speech technology for more than ten years. The technology we developed to produce natural speech is better at delivering challenging words than most people.
AI Human like Voice
Artificial technology enhances TTS more human oriented voice.
Voice Settings
Control the timbre with the perfect delivery of your Indian accented voice.
Multiple Languages Support
TTS covers a list of languages. Choose your belonging business language
Voice Campaign Customization
Modulate the speech according to the nature of the campaign.
Set Reminders/Alerts
Schedule your TTS for coming dates, events and appointments.
Price
Best price offerings, give you transparency in cost management